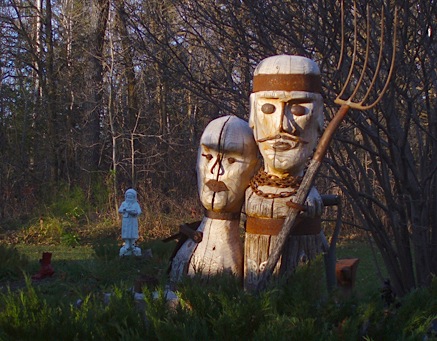 5 November 2010
Several folks I've met recently (including an old high school girlfriend I crossed paths with in a coffee-shop this week and whom I haven't seen since some time in the last century) have inquired about studio visits. Please know that I am very enthusiastic about small groups (and interested individuals) dropping by to see what I'm doing—heck, I'll gladly even give you a real-time demo of how I work, if you're interested.
Just make sure that you let me know when you plan to show up, OK? (I'd prefer to be dressed and to have at least some of the inevitable studio clutter under control…). Just give me a call in advance, or connect with me via my coordinates here (full map directions on how to get to my studio provided as well).
Image: My boyfriend felt I could use some extra "welcoming power" when good folks show up at my studio (sort of like—but not-at-all like—Walmart greeters), so the first thing you'll now encounter when you walk through the ivy-covered arbor is this "outsider-art-inspired" assemblage sculpture he created earlier this year (from pieces of cedar telephone pole, along with assorted bits of rusted iron farm implements, whiskey barrel rings, etc.)… which he titled Interlake Gothic.